Managing your 401k portfolio in post pandemic world
Covid-19 pandemic affected our lives in many ways. It made the markets volatile and had investors worrying not only about their present but also their future. Though it was unnerving to see the stock market taking different turns every single day. The key here was to understand that the 401k investments are made for the long term.
Let's take the example of Ron and Macy who started 2020 with 100k USD in their respective retirement funds, both of whom followed a Growth strategy, maintained a portfolio with 75% equities and 25% bonds. As the year progressed, in March 2020, Covid-19 pandemic was creating havoc. The markets dropped sharply, probably the fastest in history. Looking at the market situation, Macy decided to change her strategy from Growth to Conservative and reduced exposure to equity. She rebalanced her portfolio and reduced equities allocation to 25% and increased the bonds allocation to 75% in the month of May 2020. Ron maintained the same allocation and continued with the Growth strategy (75% equities and 25% bonds).
In the short term, Macy's move seems right as investing in bonds will reduce her exposure to the volatile equities market. In January 2021,the situation came somewhat under control. Lockdowns were re-opening in different parts of the world and economies started getting back on their feet. Macy sensed that it was time to change back to the Growth Strategy. She rebalanced her 401k portfolio to the Growth Strategy i.e. 75% equities and 25% bonds. We compared the returns for both Ron and Macy. Turns out Ron, who didn't make any change to his portfolio allocation did better than Macy. Ron's 401k portfolio value increased to $248k compared to $187k. Interestingly for both of them the portfolio assets grew significantly during the pandemic.
The below chart and table summarizes the results for both Ron and Macy.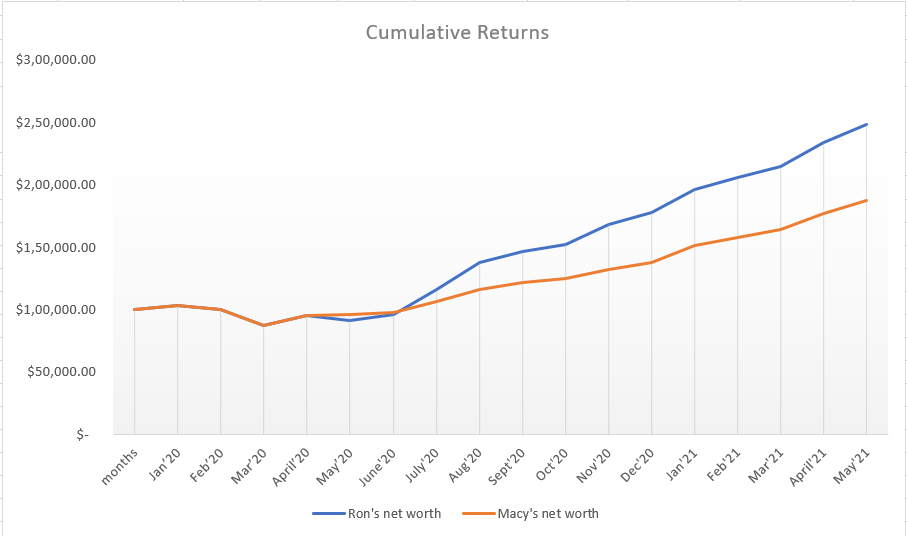 Chart-1 : Cumulative Returns for Ron and Macy between Jan'20-May'21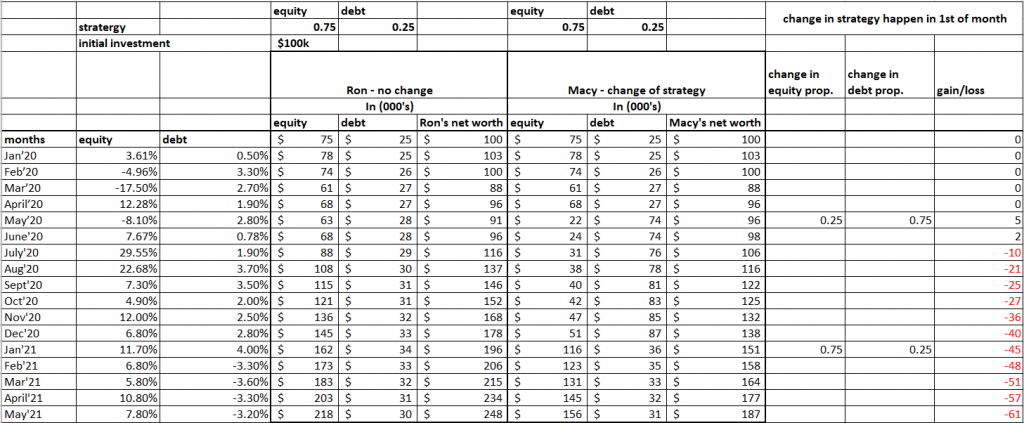 Table-1 : Changes in strategy and returns for Ron and Macy between Jan'20-May'21
This pandemic saw a big drop and speedy recovery that's unprecedented. The quick recovery we witnessed in recent months is very different from the 2008 financial crisis. It took a number of years to bounce back from the losses incurred during the financial crisis.
One thing is probably clear that when investing for the long term, we should follow a consistent investment strategy over the longer period. If your withdrawal is not near in sight, these fluctuations in the market won't matter and it will even out in the long term. But this does not mean that you should not make changes at all and not monitor your portfolio performance.
Rebalancing your portfolio is good but it needs to be thought through. One might argue that Macy could have adopted a Conservative Strategy as soon as pandemic hit and again rebalanced portfolio to a Growth Strategy in August 2020 to earn even better returns than Ron. However, timing the market is really tough and we at Plootus don't recommend it.
The pandemic has taught us a lot of things over the course of time but the important thing is patience and not let economic downturns dictate how we invest for retirement but take logical steps to safeguard it.
Until next time!
Be Safe & Healthy,
Sunil Gangwani
Sneha Kotian
Download on Apple Store: Plootus
Download on Android Store: Plootus
Please Share and like us: