What being nominated by LeapDroid as the Top Retirement App Means to us
We, at Plootus were elated to be nominated as a TOP RETIREMENT APP of 2021!! Being chosen for best performance in any one of the categories of user experience, core functionality and innovative solution is exhilarating and at the same time works as a motivator to put our best foot forward for our users/ customers. .
According to a study by National Institute of Retirement Security, more than half of Americans are extremely worried about their retirement security in 2021
Investing in 401k retirement funds is very important but it is a cause of worry for most employees for a number of reasons. Most important ones being the difficulty of deciding how much to invest, to make a choice between saving for the future or spending money on current expenses. Even for the ones who invest in saving for retirement, the enormity of options can make the job tiresome. Added to these are the problems like high fees, wrong choices and what not.
Right here is where we assist you!
Plootus was founded in 2017 with an aim to bridge the gap between financial planning and individuals who find it difficult to make correct decisions about their investment options.
Our philosophy is to democratize financial planning information (or financial literacy) and provide technology enabled services so those who wonder what would happen to them in their later years, won't have to worry about it anymore. We understand their current needs, after retirement plans and help them set contributions accordingly. Along with this, we also help our customers choose an appropriate investment allocation so that you make the most of your portfolio.
We have a 401k calculator where anyone can fill in the details about their annual contribution, year of starting, approximate age of retirement, annual spending after retirement and the portfolio you want to maintain. As output, they can understand how much savings they will have when they are ready to retire and how many years will it last. All of the attributes can be changed to get an idea of how different scenarios will work. Along with this, Plootus provides detailed investment recommendations.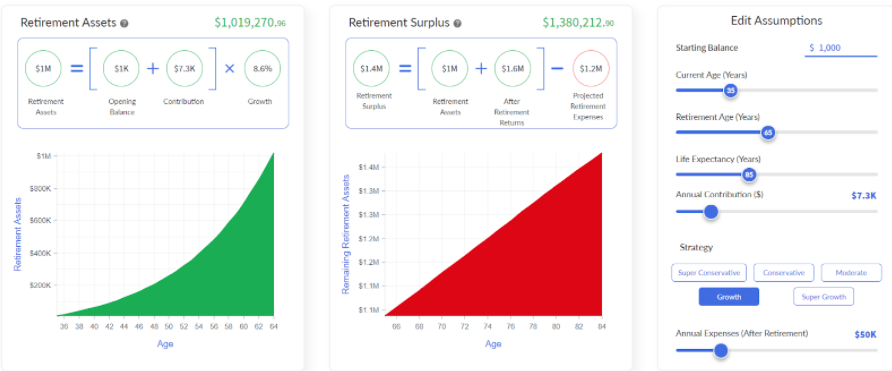 The 401k calculator allows users to try out different scenarios and investment strategies. Our bot (algorithm) collects information about a user's financial situation and retirement plans and makes recommendations relative to both. The good news is that this is all free and completely anonymous.
Our algorithm analyzes the portfolio based on a number of inputs given by the user and provides recommendations. While doing all this we take utmost care of the security and never ask for your personal information.
We, at Plootus are fostering relationships that are beneficial to everyone connected with us. Hence, being nominated as the TOP RETIREMENT APP is more like a pat on the back for the work we have accomplished till now. It excites us for the future and motivates us to put out great things for the individuals associated with us.
Please Share and like us: